Emails und Telefonnummern der richtigen Personen in den passenden Unternehmen
Nie genug qualifizierte Leads? Zu hohe Marketingausgaben?
Schlechte Conversionraten? Erweitern Sie Ihr Geschäft effizient
mit einem Ocean von intelligenten Zielkundendaten.
Intelligente Zielkundendaten
Steigern Sie Ihren Umsatz schneller und effizienter mit präzisen B2B-Daten
Smart Search
Erzielen Sie 5x mehr Leads mit unserer Smart Search
Menschen neigen dazu, immer wieder die gleichen Suchanfragen zu stellen. Die intelligente Suche von Ocean.io bringt Ihnen perfekte potenzielle Kunden, nach denen Sie nie gesucht hätten.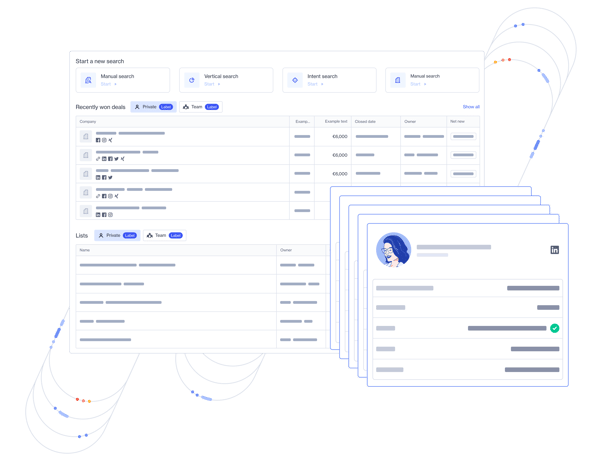 Gain Powerful Insights
Uncover the best revenue opportunities hidden in your CRM. Even if your CRM data is in bad shape, Ocean.io can revive your data and find the right target accounts for your business.
Revenue Forecasting
Predict future revenue growth with confidence.
New Market Expansion
Identify highest potential geographies for your international expansion.
Sales Efficiency
Increase sales efficiency by focusing efforts on the right accounts.
Upsell & Cross-sell
Identify customer and market segments with the strongest expansion potential.
ABM Targeting
Increase sales & marketing performance by targeting perfect-fit accounts and personas.
GTM Strategy
See what's working and what isn't in your Go-To-Market Strategy.
ICP Validation
Refine your Ideal Customer Profile based on your actual sales performance data.
Chrun
Identify customer and market segments with the highest and lowest churn rates.
AI Lookalikes
Finden Sie Leads, die kein anderer Datenanbieter Ihnen bieten kann
Die Lookalike-Suche geht Lichtjahre über die üblichen Suchfilter der Vergangenheit hinaus, um Ihnen genau das zu liefern, wonach Sie suchen. Sie suchen nach eCommerce-Unternehmen mit Abonnement? Hersteller von Drohnensoftware? Hersteller von Hydraulikprodukten? Wir haben das Richtige für Sie.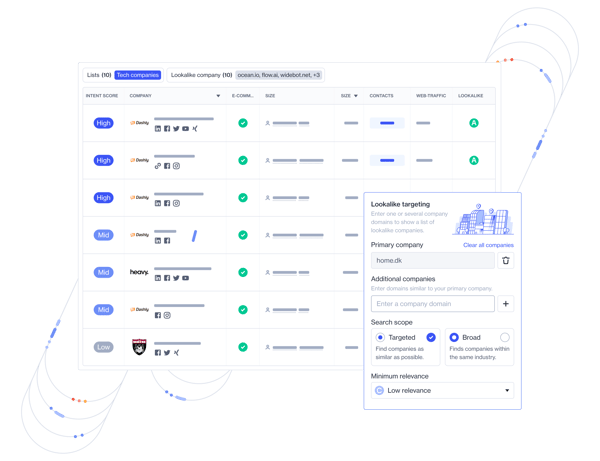 CRM Integration
Aufbau einer qualifizierteren Pipeline
Ocean.io erstellt Lead-Listen auf der Grundlage Ihrer tatsächlichen Verkaufsleistung und aktualisiert und optimiert die Empfehlungen kontinuierlich, wenn Sie neue Geschäfte abschließen.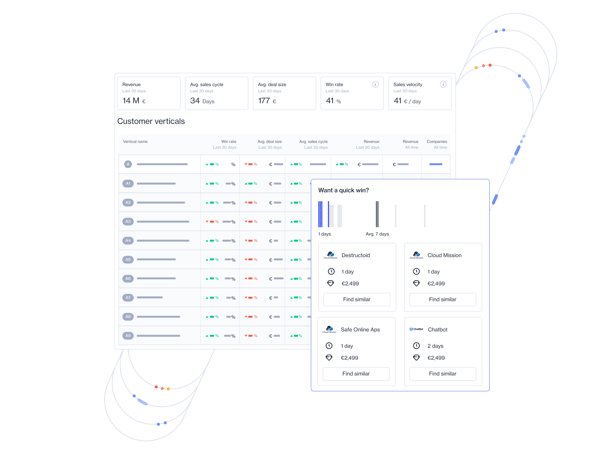 Targeting
Steigern Sie Ihre Vertriebs- und Marketingeffizienz
Präzisere Listen und eine genauere Zielgruppenansprache haben positive Auswirkungen auf Ihre gesamte Vertriebs- und Marketingabteilung: Bessere Personalisierung, höhere Konversionsraten und weniger verschwendete Ausgaben und Aufwand.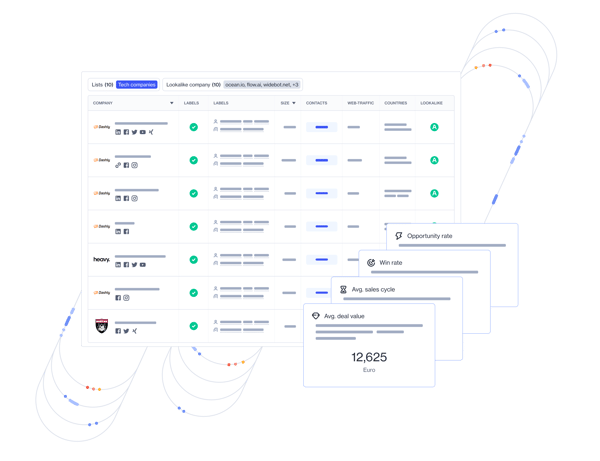 "We doubled our demo booking rate in the first week."
"Our false positive rate was north of 30% building target account lists
using SIC, NACIS, D&B's or LinkedIn's industry classifications, and with Ocean.io it's now under 3%.
"
"
Today we can more confidently say we're reaching out to all the companies that could potentially buy from us
."
Effektivere Kontaktaufnahme durch präzise vertikale Ausrichtung.
Effektivere Kontaktaufnahme durch präzise vertikale Ausrichtung.
Ocean.io durchforstet das Internet und kategorisiert Unternehmen danach, was sie wirklich machen anstatt allgemeine Branchenkategorien zu verwenden.
Wenn Ihre Zielgruppe genau und präzise definiert ist, können Sie wirklich relevante Botschaften erstellen, Ihre Werbeausgaben effizient einsetzen und Ihre Ziele erreichen.
Wie Ocean.io Lookalike Search funktioniert
How Ocean.io Lookalike Search Works
Der Kontext zählt
Ocean.io liest den gesamten Text einer Website, nicht nur die Schlüsselwörter, um Lookalikes zu finden.
Bei der Erstellung von Kundenkonten in großem Umfang machen subtile Änderungen große Unterschiede in der Listengenauigkeit aus.
Sehen Sie, was wir für Sie tun können
Segmentation AI
Predict future revenue from various industries, countries, and regions.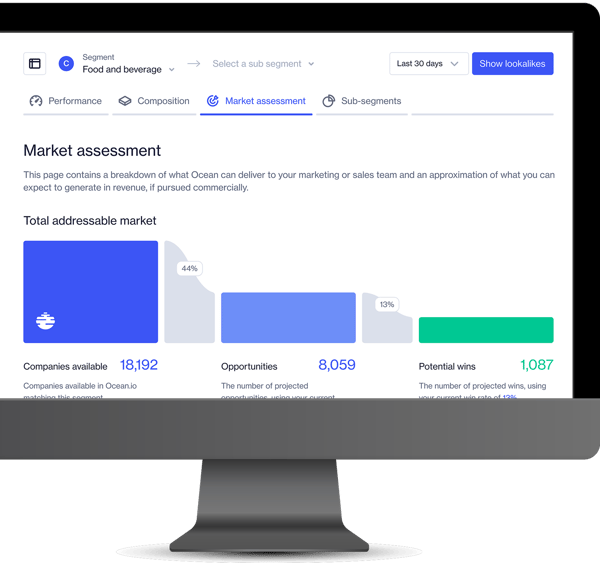 Churn Predictor
Analyze your existing customer base to find who's your best customer and who is most likely to churn.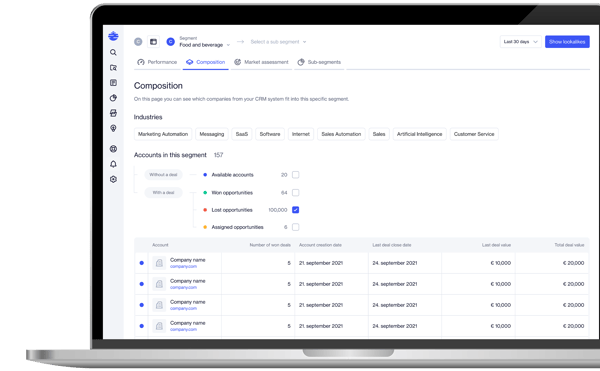 Erfahren Sie das Neueste von Ocean.io
Entdecken Sie unsere neuesten Erkenntnisse für Vertriebs-, Marketing- und Betriebsexperten sowie Updates über Ocean.io