Emails and phone numbers for the
right

people in the

right

companies

Never enough leads? Unsustainable marketing spend?
Low conversion rates? Grow your business efficiently
with an ocean of smart prospecting data.
Intelligent Prospecting Data
Grow revenue faster and more efficiently with accurate B2B data
Smart Search
Get 5x more leads with Smart Search
Humans tend to get "stuck" running the same searches over and over. Ocean.io's Smart Search brings you perfect prospects you never would have thought to look for.
Gain Powerful Insights
Uncover the best revenue opportunities hidden in your CRM. Even if your CRM data is in bad shape, Ocean.io can revive your data and find the right target accounts for your business.
Revenue Forecasting
Predict future revenue growth with confidence.
New Market Expansion
Identify highest potential geographies for your international expansion.
Sales Efficiency
Increase sales efficiency by focusing efforts on the right accounts.
Upsell & Cross-sell
Identify customer and market segments with the strongest expansion potential.
ABM Targeting
Increase sales & marketing performance by targeting perfect-fit accounts and personas.
GTM Strategy
See what's working and what isn't in your Go-To-Market Strategy.
ICP Validation
Refine your Ideal Customer Profile based on your actual sales performance data.
Chrun
Identify customer and market segments with the highest and lowest churn rates.
AI Lookalikes
Find leads no other data provider can
Lookalike search goes lightyears beyond the simple search filters of the past to bring you exactly what you're looking for. Want Subscription-based eCommerce companies? Drone software makers? Hydraulics manufacturers? We've got you covered.
CRM Integration
Build better qualified pipeline
Ocean.io builds lead lists based on your actual sales performance, and continuously updates and optimizes recommendations as you close new business.
Targeting
Boost your Sales and Marketing Efficiency
More accurate lists and tighter targeting have knock-on effects for your whole Sales and Marketing engines: Better personalization, higher conversion rates, and less wasted spend and effort.
"We doubled our demo booking rate in the first week."
"Our false positive rate was north of 30% building target account lists
using SIC, NACIS, D&B's or LinkedIn's industry classifications, and with Ocean.io it's now under 3%.
"
"
Today we can more confidently say we're reaching out to all the companies that could potentially buy from us
."
" I feel like Neo seeing numbers in the matrix! Show me niches, lots of niches!"
More effective outreach via precise vertical targeting.
Ocean.io crawls the internet to categorize companies by what they actually do instead of using generic industry categories.
When your targeting is airtight you can create truly relevant messaging, efficient ad spend, and smashed targets.
How Ocean.io Lookalike Search Works
Context matters
Ocean.io reads all the text on a website, not just keywords, in order to find lookalikes.
When building target accounts at scale, subtle changes make big differences in list accuracy.
See what we can do for you
Get a demo to see how much better your leads could be.
Segmentation AI
Predict future revenue from various industries, countries, and regions.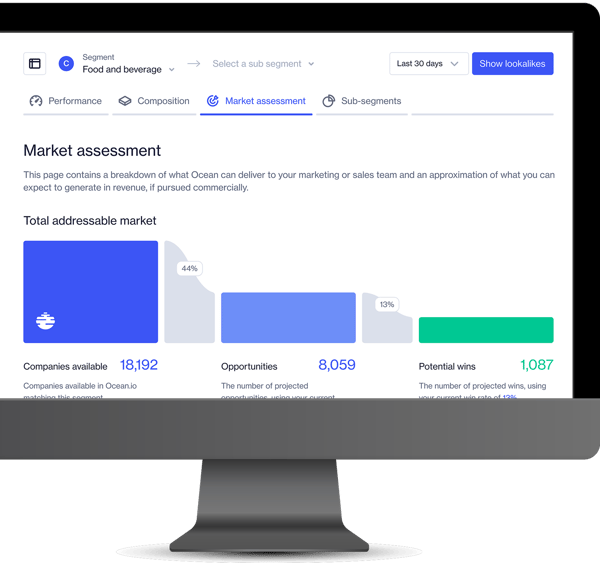 Churn Predictor
Analyze your existing customer base to find who's your best customer and who is most likely to churn.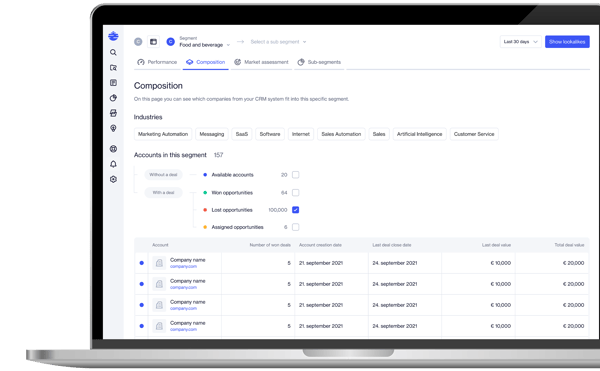 Get the latest from Ocean.io
Read our latest insights for sales, marketers, operations professionals and updates about Ocean.io