Fuel your commercial engine
"I need more leads!" said every commercial team that ever existed. Ocean.io was designed to satiate the beast: a smarter, more accurate and efficient way of sourcing leads to keep your team performing above target.
Get 5x more leads with smart prospecting
Humans tend to get 'stuck' doing the same search over and over, which brings them the same accounts every time. Ocean.io leverages AI to break out of the box and find top-tier leads that you never would have thought to look for.
Fill in the form to book a demo👇
Higher quality prospects
Even the best contact details only work when they connect you to someone at a company that's a fit for what you're selling. Ocean.io's lookalike search finds more relevant companies than standard search filters can, to give you the highest possible close rates.
Unlimited searches and lists
Get an all-you-can-eat buffet of top notch leads with unlimited company and contact searches and lists included free in every tier of Ocean.io.
Sync directly to CRM
The CRM is the central nervous system of every business, which is why Ocean.io syncs data directly to your CRM. Thanks to the intelligent matching system it won't create duplicates - so your data stays clean.
SEGMENTATION AI
Predict future revenue from various industries, countries, and regions.
TARGET ACCOUNT BUILDER
Find the right accounts to target for both sales and marketing teams.
ICP EXPLORER
Take the guesswork out of ICP and validate who is your best fit customer with smart data.
ICP EXPLORER
Define your ICP with confidence
Refine your Ideal Customer Profile (ICP) based on your actual sales performance data. Get an analysis-ready breakdown of your new business pipeline, and align your team and resources around a common ICP determined by data.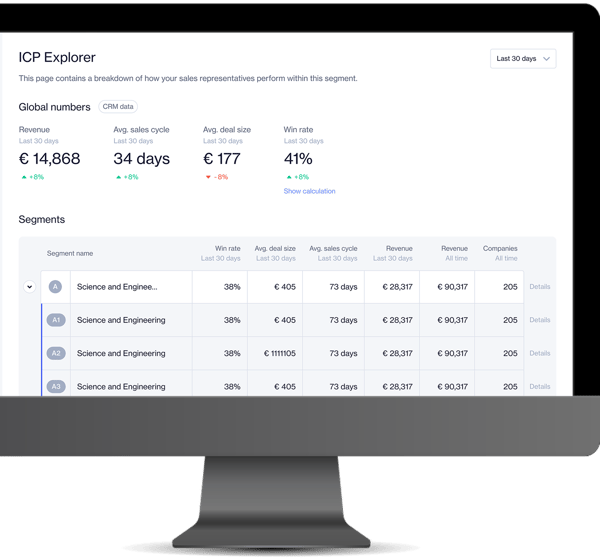 CHURN PREDICTOR
A penny saved is a penny earned
Build a smart prediction model that can identify customer and market segments with the highest and lowest churn rates. You can grow your revenue by keeping more customers on board and finding areas for upsell.